Welcome to the
Good Omens Wiki
Good Omens is a six-hour Amazon Prime Video comedy based upon the novel of the same name by Neil Gaiman and Terry Pratchett.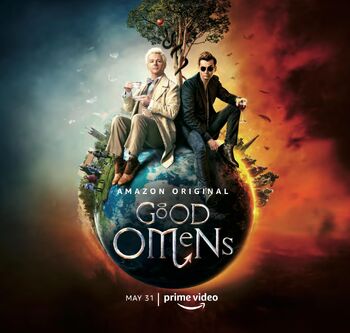 It stars Michael Sheen as the angel, Aziraphale, and David Tennant as his demonic counterpart, Crowley.
Backed up by a stellar cast -- including Benedict Cumberbatch, Brian Cox, Adria Arjona, Sam Taylor Buck, Nick Offerman, Jon Hamm, and Ilan Galkoff — it depicts the roles of angels, demons and mortals alike in the Apocalypse.
In particular, it follows Aziraphale and Crowley — who are more or less best friends — as they keep tabs on a small boy who they think is the Antichrist. Because the duo actually quite enjoy their earthly delights, they don't want to see the world end. So they are united in their desperation to ensure that the Antichrist never becomes the harbinger of the Apocalypse that he's destined to become.
The problem is that these two immortals have the wrong kid. The real Antichrist is actually a boy named Adam from a small town in England. And the time they've wasted on the wrong boy means they may not be able to stop Adam from assuming his full powers as the Antichrist.
Good Omens Wiki
We're an encyclopedia run and maintained by people just like you! Created by fans, for fans, the Good Omens Wiki is dedicated to creating a comprehensive and informative resource about all things Good Omens. Fair warning, though: you may encounter spoilers here, so be careful!